I Know what you are thinking.......How could I have never tried Zoya ......Well I'm fairly new to the nail polishing world....I've only been doing my nails a couple of months longer than I have been blogging.....and the other reason is Zoya is not available in my small town. After trying out a few Zoya polishes I will definitely be purchasing more online. They are amazing!
Flash Collection-Summer 2010
Described on the
Zoya Website
as a Soft Tangerine Cream. This describes it perfectly....this color is amazing. I love the cream formula it kinda reminds me of orange sherbert...I don't have any other color similar to this one. This was an easy application with three coats...it dried fairly quickly...I applied a coat of Seche Vite and I was in love with this glossy, creamy,orange polish.....it's definitely a keeper! I must have the rest of this collection!
Reverie Collection-Spring 2010
Described on
Zoya Website
as a Duochrome Violet Metallic....all I have to say is Wow,Wow,Wow! I have never seen anything like it......I love purples so this one already has my ♥ but add the duochrome and its amazing....I couldn't stop staring at my nails when I wore this. The violet accompanied with the greenish/metallic in my opinion is a showstopper for sure. All polish addicts must own this polish. Application was easy with 3 thin coats, which dried quickly topped with a coat of Seche Vite.
I took so many pictures of this color to try and capture the duochrome......this is nothing compared to what it looks like in person it truly is gorgeous and unique.
(I just could not seem to capture the amazing duochrome on camera)
Sparkle Collection-Summer 2010
Described on the Zoya Website as a mermaid green sparkling metallic. This color is beautiful.....I love me some sparkling/glittery polish and this is the most glittery polish I own. The glitter isn't like glitter in most polishes, it's very fine and it isn't a pain to remove. This polish makes my nails look like shimmering jewels....I can't stop staring at them. If the rest of the Sparkle Collection is like Ivanka it's a must have. I'll definitely have to be purchasing more of these. The application was very smooth with 3 thin coats, that dried quickly topped witha coat of Seche Vite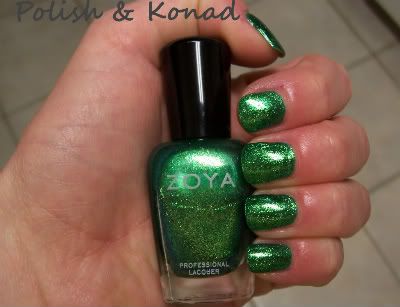 ★I love pretty much everything about all three of these polishes....they definitely did not dissapoint. I like the sleek design of the bottles, the formula is amazing and the brush size is perfect for application★
A Zoya Konaded
Jancyn Konaded with Adina
This turned out amazing.......I wonder what Adina would like like konaded on black or white polish? Hmmm.....sounds like a future experiment. Adina is such an amazing color....I can't get over it.
(Please excuse my horrible dry cuticles....they look awful

☹

)
I must order some Zoya Remove....I've been reading some great things about it along with the whole color lock system.
A few facts about Zoya from the Zoya Website
Zoya Nail Polish has been awarded as the longest wearing natural nail polish by an independent panel in Women's Health Magazine. Zoya Nail Polish is a nail polish free of toluene, formaldehyde, DBP (phthalates) and camphor. Nail Polish by Zoya offers over 300 gorgeous nail polish colors to choose from, plus 4 seasonal collections of nail polish every year. Zoya Nail Polish was specifically formulated to deliver the longest wear possible on natural nails. Zoya Nail Polish can be found in better beauty salons, spas and online at

http://www.zoya.com/.
From what I have experienced so far Zoya is a truly amazing nail polish......I can't wait to try more!
Disclosure: The product(s) in this post were provided to me by the company for consideration. For more information please read my disclosure policy.