Hello Everyone! I was sent a few polishes for review from the lovely Andrea at
Cheeky Monkey Cosmetics
. The polishes I received are the new Spring/Summer colors. Thank You Andrea!
I'm loving everything about these polishes! The packaging is adorable and I love the little notes of encouragement attached to each bottle of polish. Each polish also has its own little story...you can go and read those at the Cheeky Monkey Website. I am also loving the formula of the polishes. If you don't own any of these I suggest you go browse their site, read the stories, check out those creative names and pick a few of these up....you won't be disappointed!
"It is the brand that people are talking about- "did u hear the name of that?!?" as they laugh out loud. Then they help others realize you can also get quality with the fun. Our nail polish colours were specially selected to drive future trends rather than match current stale ones. Our bottles, brushes and accessories are sourced from around the world including Italian glass and other European sources to be of the very best quality. We are an Environmentally responsible company in our operations and our products. All our products are non-toxic and 3 Free (TFF & DBP Free: do not contain Toluene, Formaldehyde, or DBP – Dibutyl Phthalate)."
-From the Cheeky Monkey Cosmetics Website
Described as a Tuxedo Grey on the website. This is a gorgeous dark grey with some shimmer. This application is 2 coats. The polish dries very quickly and the brush size is perfect for polishing my nails.
Described as a Dark Burgundy on the website. This color is amazing! It is a deep purplish red with a beautiful shimmer. It looks great out in the sunlight. This application is 2 quick drying coats.
Tease
Described as mauve on the website. Honestly, when I first saw this color I thought it w
as gonna turn out to be a very light grey. That is what it appeared as in the bottle anyways! But this is a very pale lavender, and it is gorgeous! I'm loving this one....after all, purple is my favorite color. This application is 2 quick drying coats.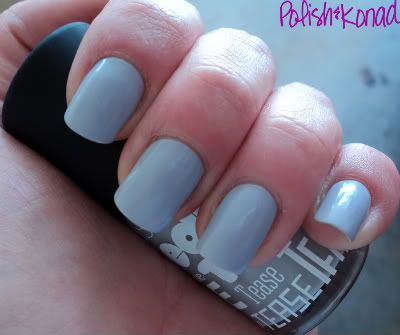 Described as a pastel turquoise on the website. And a pastel turquoise it is! Tease was my fave from the new colors until I polished my nails with this one. It is definitely my favorite now! This is a gorgeous blue/green. This application is 2 quick drying coats.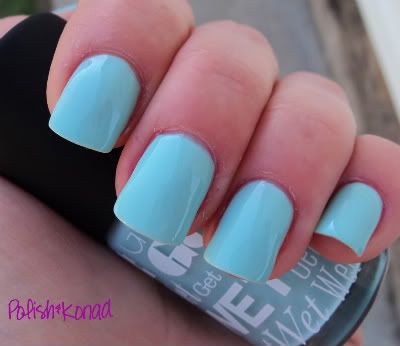 (sorry for the dry cuticles)
Go Check out Cheeky Monkey Cosmetics Website if you are looking for some amazing polish or a little entertainment.
Cheeky Monkey polish can be purchased on their
website
for $15 a bottle
Disclosure: The product(s) in this post were provided to me by the company for consideration. For more information please read my
disclosure policy
.