Hello Everyone! Today I am posting about the China Glaze Poolside Collection. This is a collection of neons for Summer 2010. I know that there have already been a ton of reviews and swatches on this collection, but it is a great one!

note: I tried to get the photos as close to what the polishes look like IRL, however it is impossible for me to capture the true beauty and neon of some of these colors.
The Poolside Collection is China Glaze's Summer Collection consisting of 6 hot neons. These dry with a matte finish as most neon polishes do. Application wasn't the easiest, but it was okay. Most of these took 3 coats to be opaque,with the exception of a couple of them taking 4 coats. I also applied a coat of Color Club Paris White to my nails before applying the Poolside colors. I've read on several blogs that a white base coat will make the neon pop. I tried to get the photos as accurate as possible, but as many of you fellow bloggers know, neons can make a camera go crazy!
♥♥♥
Towel Boy Toy- A beautiful blue creme with a hint of iridescence. This is the only neon in this collection that has some shimmer. This is probably the most wearable of the collection. I really do love this color! This swatch is from a previous review I did when I first purchased Towel Boy Toy, so I did not use a white base coat before applying this one. This application is 3 coats with a top coat.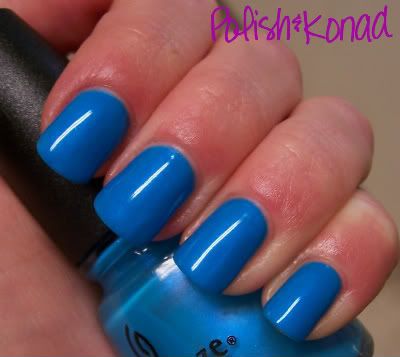 ♥♥♥
♥♥♥
Sun Worshiper- A tangerine creme. This is another one of my faves from this collection. I am usually not an orange polish kinda girl, but this one is awesome! This application is 1 Coat of CC Paris White and 4 coats of Sun Worshiper.
♥♥♥
Flip Flop Fantasy- A coral creme. I took so many pictures of this color, but it just would not photograph true to color. This is a beautiful coral/pink color. I love it! This application is 1 coat CC Paris White and 3 Coats of Flip Flop Fantasy with a top coat.
♥♥♥
Yellow Polka Dot Bikini- A neon yellow creme. I love the name of this one, too cute! Think yellow hilighter, that is exactly what this color looks like to me. This is probably the least wearable out of the bunch for me, it is so bright! This application is 1 coat CC Paris White and 4 Coats Yellow Polka Dot Bikini.

♥♥♥
Pool Party- A dark pink creme neon. This is a bright neon pink. It was difficult to captue the neon of this polish on camera. The best way I can describe this is that it is similar to a neon pink hilighter, maybe even just a little more pink. This is a great color for summer! Looks amazing on the toes! Application is 1 coat CC Paris White and 3 coats Pool Party.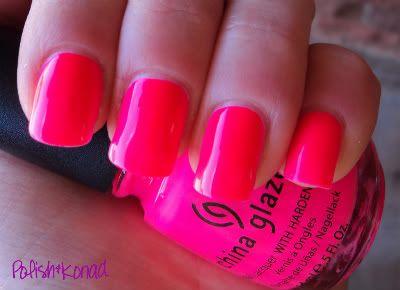 This is an amazing Summer Collection ♥ It's sure to steal the attention of everyone! Thanks to China Glaze for bringing us another outstanding collection!
Disclosure: The product(s) in this post were provided to me by the company or PR representative for consideration. For more information please read my disclosure policy.