Adding a little colour to your life doesn't just mean updating your wardrobe; think about your beauty routine too. When fashion dictates which colours are 'in' we need to mix and match our beauty palette to meet the latest trends and it's never been easier to update your nail colour than with the new extensive range of Ciaté Paint Pots £9.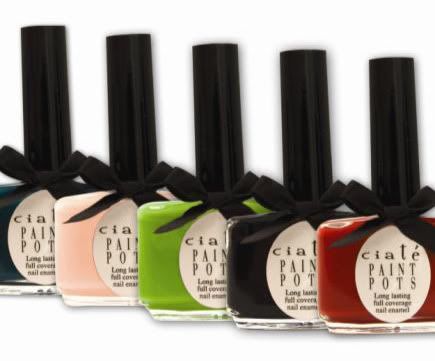 Brit born nail brand Ciaté was developed by celebrity manicurist Charlotte Straughan who from her years of catwalk and salon experience knows exactly what does and doesn't work with nail care. In addition to the existing Ciaté feet treats and manicure must haves they introduce the fantastic new range of nail enamels - Ciaté Paint Pots. The long lasting, ultra glossy, full coverage enamel's are Formaldehyde and Toluene Free and available in 35 mouth-watering shades.
Ciaté Paint Pots also have a unique professional optimum 250 bristle flat brush to give an even, smooth finish to the nails. They also feature an ergonomically designed long handle and curved bottle to make them really easy to use – any manicure novice can perfect nail art with these!
Call 0208 290 3740 for your nearest stockist