Sarah Smile- Created with Sarah Jessica Parker. Described as the city's sexiest pink (Sheer). This is a beautiful pale pink that was created with Sarah Jessica Parker. How awesome is that! The formula was great.This application was 3 coats. I also used the Deborah Lippmann Hard Rock hydrating hardener base and top caot as the base and top coat. Dry time was fairly quick.
Hit Me With Your Best Shot- Created with Pat Benatar. Described as a glistening gun metal (shimmer). I could not have described this color any better other than saying that it is gorgeous. The formula was excellent. This application is 2 coats with a base and top coat of Deborah Lippmann Hard Rock. Dry time was fairly quick.
Fade To Black- Chart topping vinyl record (Creme). This is just a basic black. I'm gonna have to test this one out for stamping...looks like it will work great. The formula was excellent. This application is 2 coats with a top and base coat of Hard Rock. Dry time was quick.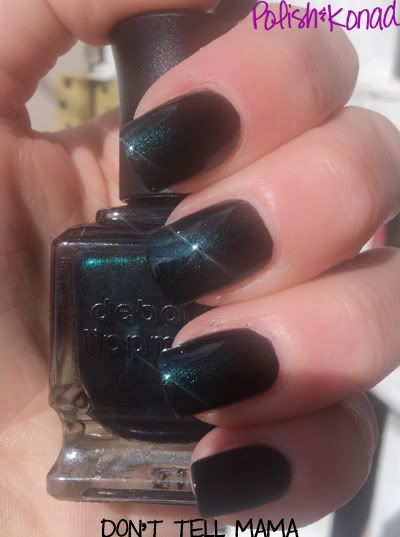 Don't Tell Mama- Described as a mood ring blue/green (shimmer). As seen on Live with Regis and Kelly, as Kelly's favorite stocking stuffer. This is my favorite out of all these colors. It is gorgeous! It is a lovely blue/green with tons of shimmer. This photo just does not do justice. If you pick up any of these colors this is definitely one that is a must have. The formula was awesome. This application is 2 coats with a top and base coat of Hard Rock. Dry time was quick.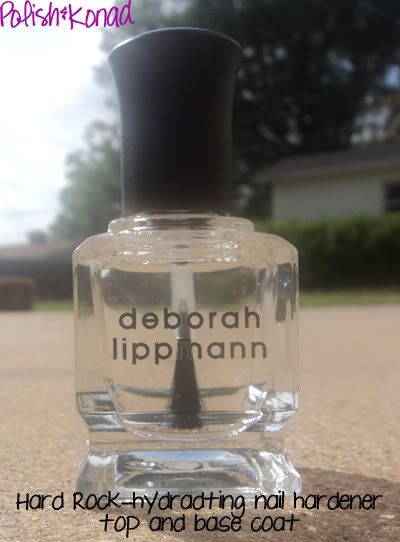 Hard Rock Hydrating Nail Hardener top and base coat
Features
* When applied daily will help weak nails grow naturally with Aucoumea Klaineana extract, a natural resin from west African trees
* Does not contain formaldehdyde, toluene, or dibutyl phthatlate (DBP)
* Aucoumea also helps to strengthen nails and prevents ridges for smoother, healthier nail growth.
* Contains Protein-Building Biotin (a cell regenerator) for strengthening and Hydrolyzed Soy Protein for hydration to keep the nails strong yet pliable.
Recommended Use:
Apply a light single coat adding one coat on top of another daily for a week, remove and begin again. If you have just removed artificial nails of any kind you may also use Hard Rock daily. Start with it as a base coat add 2 coats of color and finish with hard rock as top coat, while re-growing nails. Then after about 3 months just once or twice each week to keep nails strong and beautiful.
The Nail Tip:
Hard Rock is really great if you've just removed acrylics, or another nail enhancement and want to restore your nails back to health quickly. Your nails will not become brittle they will grow back with strength and flexibility.
I have not used Hard Rock enough to tell if it is helping my nails, but i'll keep you posted.
Overall, these were all amazing colors, the formulas were great and dry time was quick! Looks like Deborah Lippmann Collection is a winner. I really loved Don't Tell Mama and Hit Me With Your Best Shot. And I always love reading all the names.
Products can be found at
LippmannCollections.com
Products were provided by the company or PR representative for consideration. For more info read my disclosure tab.