Hello all of my nail polish lovers! I hope you all had an awesome weekend. I have been so busy lately swatching and reviewing collections that I haven't been able to do all the Halloween manis that I had planned, so I am going to be dedicating this whole week to Halloween related posts ONLY.

This set includes:
Halloween Gem pack is sold separately.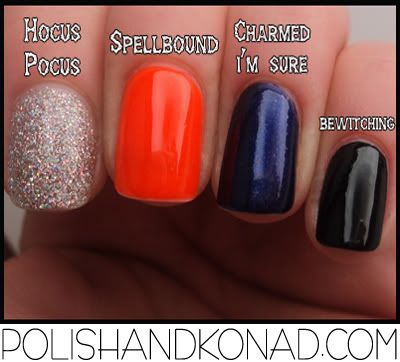 Hocus Pocus-An almost holographic glitter polish packed with tons of multi-colored glitter.
Spellbound

-A shiny neon orange.
Charmed I'm Sure

-A gorgeous bluish purple with magenta micro glitter.
Bewitching

-A Nice black creme.
Color Club Bewitching with Decals
Here is what I came up with when I was playing around with the decals and gems. I love the Hocus Pocus(index), Spellbound(middle) and the Bewitching(pinky) nails, but i'm not too fond of the Charmed I'm Sure(ring) nail, it's a mess!
On the index and middle nails I used the decals and on the ring and pinky nails I used the gems.
Products were provided for review.