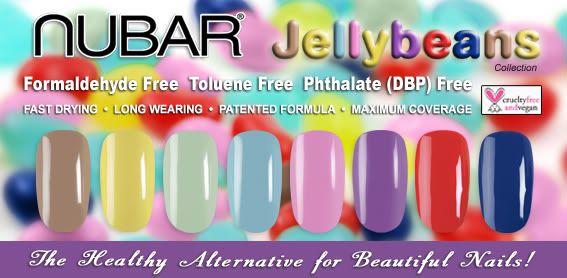 Jellybean Collection

This season nubar brings the vibrant hues of the ultimate springtime confection to your tips and toes! nubar's Jellybeans are eight exciting shades of premium high gloss nail lacquer which vary from delicate to vivid with everything in between. No matter what your style, you'll find a Jellybean that's just right for you!
The colors of
nubar's Jellybeans are:
1 NJB263 Toasted Marshmallow – opaque light carmelized brown creme
2 NJB264 Lemon – opaque bright yellow creme
3 NJB265 Kiwi – opaque pastel green creme
4 NJB266 Blue Raspberry – semi-opaque light turquoise creme
5 NJB267 Strawberry – semi-opaque light modern pink creme
6 NJB268 Grape – semi-opaque medium modern purple creme
7 NJB269Cherry – semi-opaque bright orange red creme
8 NJB270 Blueberry – opaque medium vibrant blue crème
Nubars Jellybeans Collection can be purchased at ByNubar.com. $64 for the full collection or $8 per bottle.
What are your favorites from this collection?
Swatches Coming Soon!